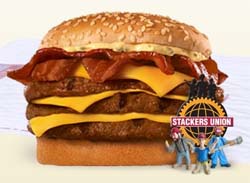 Burger King has just announced their newest burger, the BK Quad Stacker. Four hamburgers, four slices of cheese, eight strips of bacon and almost a day's worth of calories in just one sandwich. In a rare show of corporate honesty, Burger King announced the burger with the following statement:
"We're satisfying the serious meat lovers by leaving off the produce and letting them decide exactly how much meat and cheese they can handle."
The burger sounds like a challenge, not a meal. Some have supposed that this might open up Burger King to obesity lawsuits, but the Accidental Hedonist disagrees:
I totally agree with what he says about these fast food restaurants.
"I, for one, am glad to see fast food restaurants being unapologetic for their products. By being clear on who they are and what they sell, it makes it easier for me to decide whether or not I visit their establishments. That I choose not to is worth noting, but only if you keep in mind that I don't really fit into their core demographics."
I don't think we need to legislate food to keep ourselves healthy. As long as we have the nutrition facts for the food we eat, the choice is ours. I don't want the government trying to protect me from myself. I just want the data about the food I eat.
Previous: First Glance: Nike+iPod
Next: Have Dinner and a Roll in the Grass!

14 Responses to "The Unapologetic BK Quad Stacker"
-