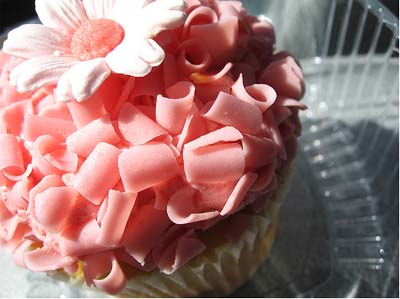 For a while now, cupcakes has been the new food fad. Specialty shops in New York and Los Angeles create elaborate cupcakes that are more a work of art than a treat. The cupcake fad hasn't hit Salt Lake City yet. I'm sure in a year or two, it will be the "new" thing to hit our town and all the local bakeries will start specializing in designer cupcakes.
Part of me is torn when I see beautiful food like this. It's so pretty and all the food weblogs are talking about "amazing" cupcakes from Bristol Farms. It makes me feel left out in a way. People are experiencing something that I would have to travel to just see. I want to eat this pink cupcake just because I can't eat this pink cupcake.
This has nothing to do with sustenance and EVERYTHING to do with hunger. My desire for this cupcake isn't about a tasty treat. It's about wanting to fit in. It's about wanting to be cool. It's about getting what is denied me.
How much of eating is about feeding my body? I'm beginning to learn that I eat for almost every reason EXCEPT to feed my body.
Previous: How Do You Comfort Yourself Without Food?
Next: First Glance: Nike+iPod

7 Responses to "Cupcakes: The New Food Fad"
Leave a Reply
-