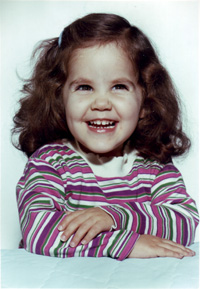 Read Part 1 of "I Don't Bite My Fingernails Anymore"
Just in case you thought that my grandmother didn't have as many hangups about fingernail biting as she did about fat little girls, I present you with this faded photograph. This is me in 1973. Unlike many of the photographs taken of me, I remember the day this one was taken. My grandma had taken me to a REAL photographer to have my picture taken. That purple-striped shirt was brand new because I had gotten too "fat" for my other clothes.
The photographer put a box in front of me and placed a baby blanket on it. I remember thinking that I wasn't a baby anymore, so I shouldn't have a baby blanket in my picture, but I didn't say anything. He placed my arms on the box and I remember looking at my fingernails. I was so proud that I had been able to stop biting them for long enough for them to grow for the picture.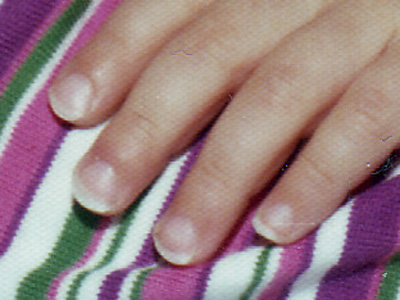 I was four years old.
---
Tune in tomorrow to read the conclusion of "I Don't Bite My Fingernails Anymore."
Previous: I Don't Bite My Fingernails Anymore – Part 1 of 3
Next: I Don't Bite My Fingernails Anymore – Part 3 of 3

5 Responses to "I Don't Bite My Fingernails Anymore – Part 2 of 3"
Leave a Reply
-