MSN has an online slideshow of a map of the United States showing the obesity rates from 1985 to 2004. You can see it by clicking on the map below: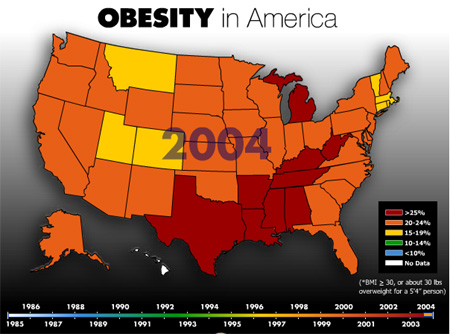 The problem that I have is that this information is presented as fact when the map was created using questionable data:
In 1998, the CDC changed the BMI numbers corresponding to obesity. With a change in accounting, suddenly the United States became "fatter."

The CDC is based on self-reported height and weight collected through telephone surveys rather than actually weighing people. Not only is this data based on heresay, it is only a measurement of people willing to answer telephone surveys.
In actuality, this map tells me nothing. Is Utah less fat than Texas? I don't know and I can't depend on MSN to give me a legitimate answer if they consider the phone surveys from CDC to be "good enough."
It appears that the major media is really spreading the idea of the Obesity Epidemic. I'm not buying it. I want to eat healthy and exercise so I can live a long time and look good, but I don't think anyone has been "scared straight" when it comes to eating healthy.
Via: Boing Boing: Animated map of American obesity 1985-2004
Previous: Exerting Control
Next: Scott Adams Defends Fat Acceptance

4 Responses to "Map of American Obesity from MSN"
Leave a Reply
-