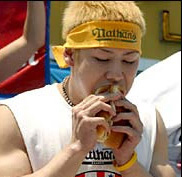 I struggle with binge eating and even I don't understand competitive eating events. What possesses someone to try to win a hot dog eating contest and, even more strange, set a world record?
Susan McQuillan, a New York registered dietitian, commented on the amount of food consumed by a competitive eater during competition.
"In twelve minutes, they will consume a week's worth of calories, 5 times the recommended daily limit for cholesterol, 17 times the daily limit for total fat, 21 times the limit for saturated fat, and more than 2 weeks worth of sodium."
I don't think any of my binges have been that amount of found in that short of a time. Why are these competitive eaters shown on ESPN2? They aren't athletes, they have an eating disorder just like I do.
Previous: PostSecret: Every Inch
Next: Heartburn "Cure" Not a Cure

2 Responses to "Kobayashi Wins Hot Dog Eating Contest"
www.iportion.com Says:
July 7th, 2006 at 9:30 am

Not all the people have the same food hang ups I do. I guess it's weird, binging as a sport. I've had bad binges. To them it's about being the fastest at something. I guess ooo I could enter an oatmeal eating contest or a veggie eating contest. Zero points :0(

Weight Loss Says:
July 11th, 2006 at 7:28 pm

I remember watching this guy on tv and man can he throw it down. It is kind of funny that it is called a sport though but the word sports I believe means many things now a days.
Leave a Reply
-