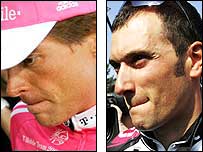 It looks like both Jan Ullrich and Ivan Basso are out of the Tour de France this year because of doping allegations. Both are contesting that they haven't done anything wrong.
There are so many things that can tip off a drug test that the two of them might actually believe that they haven't done anything wrong, yet some of their "supplements" might have caused this problem as it did with Kicker Vencill before the 2004 Olympics.
Remember, if a product is promising "performance" or weight loss without diet and exercise, they are either doping you up, or selling you sugar pills. There is no such thing as a magic pill that can make your fat go away or make you faster on your bike. Depend on yourself and healthy food.
Via: kottke.org
Previous: Tired of High-Tech Fat Hatred
Next: Ride That Roller Coaster

One Response to "Tour de France Doping Allegations"
www.iportion.com Says:
June 30th, 2006 at 10:08 pm

A lot of people don't realize supplements can be powerful drugs and can react with real meds
Leave a Reply
-