I sent a copy of my walking video, Swami Beach, to Wendy Bumgardner from About.com. She reviewed the DVD here:
In her review, she said:
"Laura Moncur of the Starling Fitness blog has a new, inexpensive DVD for those who use a treadmill but want something better to look at than the wallpaper. The Swami Beach video is simply a video of walking on Swami Beach, no narration, just the point of view of a walker enjoying a beach stroll."
It was a very kind interview because her personal review was that the bouncing made her a little motion sick. Ever since this feedback, I've been working on getting the next walking video smoother and less bouncy.
Stay tuned to see what I have in store for you!
Here is a glimpse of what the Swami's Beach Video looks like: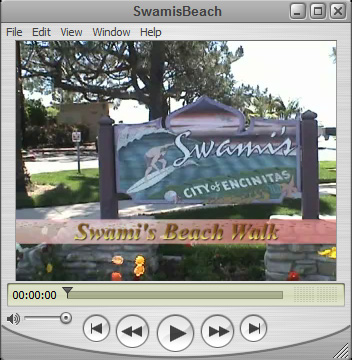 If you have a treadmill next to a television and DVD player, you might like this DVD and it's only five bucks plus shipping. You can buy it here:
Previous: Five-Year-Old Perfect DDR Dancer
Next: Organic Produce: Price vs. Ethics

One Response to "Wendy Bumgardner from About.com Reviews The Swami Beach Video"
Carol Says:
October 22nd, 2008 at 6:15 pm

I love the Tapes… It gives me more incentive to get up and excercise..
Leave a Reply
-