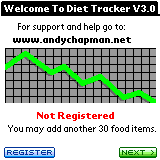 On my search for a Palm program to track my calories and exercise, I tried Diet Tracker.
I found it difficult to use. Adding food into the diary was time-consuming because it took too many clicks to do it. The software that I'm using now just lets me click on the line and start typing. It will bring up the database of foods that match what I'm typing and I can choose from that, or add my own. EASY. With Diet Tracker, it was much harder. I had to click on the little +Food button, which was impossible to do with my finger, so I HAD to pull out the stylus. Then there were several more choices before I could get to adding my food.
The screens were so pretty, that I was reluctant to give it up. Plus, it let me track things like how many hours of sleep I got and how good I felt each day. I really wanted this software to work. In the end, it crashed my Palm when I pushed the Delete button. That was enough for me to decide that I was going to try some different software.
I'm so grateful that they allow trial downloads to test software because I can find exact right software for me.
Previous: Review: Weight Commander
Next: Question of the Week: How do you journal?

2 Responses to "Review: Diet Tracker"
LeeAnne Says:
June 18th, 2006 at 7:38 am

so then please tell us what program you do use so we can all get it !!!…thanx

Laura Moncur Says:
June 18th, 2006 at 10:03 am

LeeAnne,

That's the problem, I haven't been able to find the perfect software. Still looking. The closest I've come to finding something that works is WWCalc, which is a program that uses Weight Watchers Points. WW threatened the guy who wrote it, so he took it off his website. It's unsupported, so that's why I'm looking for something new. Haven't found anything good yet…

If you find anything you like, please send me a tip.

Laura Moncur
Leave a Reply
-