While on my search for new software for my Palm, I checked out Weight Commander for the PC. It wasn't what I needed, but it was an interesting program.
It doesn't allow you to keep track of your food or exercise. It's not a nutrition or exercise log, it is strictly to keep track of your weight. It recommends that you weigh every day and input the weight into its system. Every day it gives you a little word of warning or information.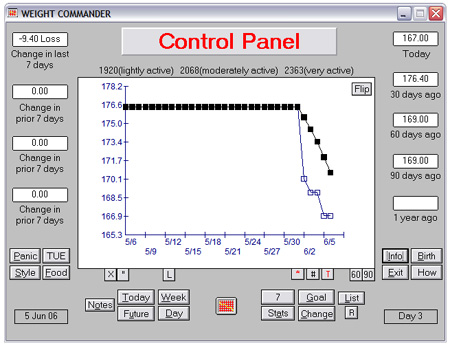 My one problem is that I tend to lose weight in drops. I'll stagnate for days or even weeks on end and then have a sudden drop in weight on one day. When I had this, Weight Commander chided me for losing weight too quickly and told me to slow down. I know my body and that sudden weight loss was the accumulation of days of eating healthy and exercising while the scale didn't move, so I was bothered by the admonition to slow down.
The best advice that Weight Commander gave me before my 5-day trial expired was "Don't follow the hollow." That meant, don't look at your daily weight data, look at the average. Look at the general trend. Is the general trend going up or down or staying the same? Don't look at today's weight, look at the weight average.
That is really helpful advice when you're weighing every day. My body weight can fluctuate wildly from day to day, which means that I get ecstatic when I see a huge drop and depressed when it bounces up. "Don't follow the hollow," is something that I can remember when I see those big changes.
If you are tracking your weight daily, my weight log and spreadsheet would not work for you. It assumes a weekly weigh-in, but it could be adjusted for a daily weigh-in. If you have Microsoft Excel on your computer, this spreadsheet would do much of what Weight Commander would do without the admonishments.
Previous: Ratatouille
Next: Review: Diet Tracker

6 Responses to "Review: Weight Commander"
Leave a Reply
-