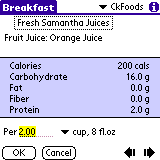 I found out about CalorieKing.com from PalmGear. They were selling a Palm handheld calorie counter and I was looking for a new one, so I tried it. I was unimpressed because it crashed my Treo a couple of times and the Palm software didn't sync with the PC software, so I didn't purchase it.
I promptly forgot about CalorieKing until Jeremy Zawodny recommended them in his weblog entry, "The Diet Plan and The Three Habits". I worried that I might have been a little rash in discounting them, so I looked at them again.
Jeremy was right about CalorieKing. They have a MASSIVE database of food and you can search it from their website, but their software leaves a lot to be desired. I wanted to be able to set up my weight and have it find my metabolic rate automatically. Then I wanted to tell it my goal and have it tell me how many calories a day I should eat. Instead, it just told me that I should eat a certain number of calories a day without any other ability to tweak it. It just wasn't the software for me.
Additionally, the fact that the Palm and the PC software didn't sync (whereas the PC software syncs with their monthly web program) was the final decision-maker for me. I don't want to pay a monthly fee to keep track of my food. I just want to put my food on my Palm and be able to view it on the PC sometimes. Maybe even print it out and put it in my journal or show it to a nutritionist.
CalorieKing wasn't for me, but it might be for you. They allow a free trial download with a 7-Day trial, so you can check it out for free. And as always, you can just look up any food you want for free, which is what Jeremy recommended in the first place.
Want to try out CalorieKing? Here's where they are:
Previous: Reduce The Fat of Regular Hamburger
Next: Ratatouille

5 Responses to "Review: CalorieKing"
Leave a Reply
-