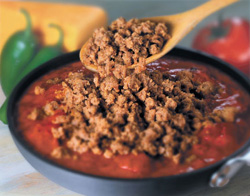 The Hillbilly Housewife has another tip for you. This time it's about Regular Ground Beef vs. Extra Lean Ground Beef. So many of my family's recipes require ground beef that it's something that I still use on a regular basis. Instead of spending the extra money to get the leaner beef, here is a technique to make regular ground beef less fatty.
I haven't tried this, but it seems like it would work. My only problem is that I wouldn't know how to count the calories unless I just believed her. I know that draining any ground beef and rinsing it like this would help it be less fatty, but I think I would be tempted to count it as the higher calorie count "just to be safe."
Previous: Feed a Headache
Next: Review: CalorieKing

2 Responses to "Reduce The Fat of Regular Hamburger"
Jim Says:
June 16th, 2006 at 1:47 pm

For most, Boca crumbles or similar products are a whole lot easier, and much healthier.

Michelle Says:
June 17th, 2006 at 3:21 am

Calorie king (australia) has calories for drained mince (what you folk call hamburger) Here's the link. I dunno if the rinsing counts for anything.
Leave a Reply
-