I tried exercising with the Swami's Beach DVD with my exercise bike for the first time on Sunday. I just can't wait to tell you how it was!
It sucked!
Seriously, this is a pretty video where you get to see a lot of ocean and see interesting things along the way, but when I was exercising with my bike and watching it, it just didn't do it for me. First off, there's the huge staircase. I can't even imagine going down that with a bike, so it just felt like I was watching a movie. Then, when we finally get walking on the beach, it didn't feel right because riding a bike on sand is extremely difficult to balance on. I constantly felt like I was going to fall over because of the sand.
I had to turn it off after ten minutes or so.
I've walked and run with this video lots of times on the treadmill and just LOVE it. Every time I watch it, I notice something different and I was the one who filmed it. It's amazing how much our minds filter our consciousness. I love the video on the treadmill, but it was thoroughly unpleasant on the bike.
I have two more videos in the works and BOTH of them have stairs. Next time I do filming, I need to make sure that I choose a course that is accessible to both walking and biking.
Here is a glimpse of what the Swami's Beach Video looks like: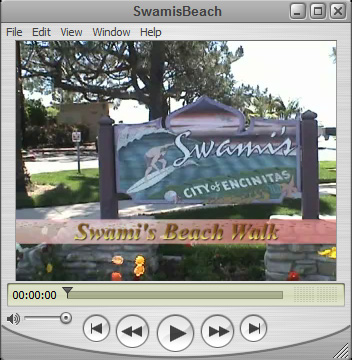 If you have a treadmill next to a television and DVD player, you might like this DVD and it's only five bucks plus shipping. You can buy it here:
Previous: The Monkey Chow Diaries
Next: Diet Mixers Increase Alcohol Absorption

5 Responses to "Does The Swami's Beach DVD Work With An Exercise Bike?"
Leave a Reply
-