The official times for the 5K haven't been posted yet, but here's a low resolution video that Mike took. I'm the one in the long-sleeved gray shirt.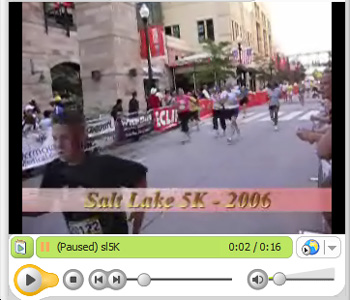 I started and stopped my stopwatch correctly this time, and it said it took me 37:15 minutes to complete the race, which is 3 whole minutes longer than my best time.
It just goes to show you that you can't cheat physics. If you want a good finish time, you have to put in the training time. There's no way around it.
Update 06-04-06 11:42 am: The results are up online now. My official results are:
Race: Salt Lake 5K 2006
Name: Laura Moncur
City: Salt Lake City, UT
Bib Number: 20366
Sex: Female
Age: 37
Time: 37:16
Pace: 12:00
Place in Age Division: 79 out of 139
Place Overall: 1478 out of 2321
Place in Sex Division: 775 out of 1425
Ironically, this race would have earned me an A in my jogging class so long ago, but it's not good enough for me. I'm racing again this August. We'll have to see if I do better when I train.
Previous: .01 Of A Second
Next: Question of the Week: What Do You Eat?

3 Responses to "Salt Lake 5K 2006 Race Results"
vh Says:
June 4th, 2006 at 5:15 am

You ran which is more than I do

Bill Nadraszky Says:
June 4th, 2006 at 6:07 am

Hey Laura, good for you! You may not have beat your 2004 model but I am sure you know how much better you can run if you are doing it regularly.

I have not run much at all in the last couple of years as my knees seem to kill me after a couple of weeks o training so I really appreiate what a feat it is to get that race run!

Picture It: Says:
June 14th, 2006 at 4:52 am

Good job !
Leave a Reply
-