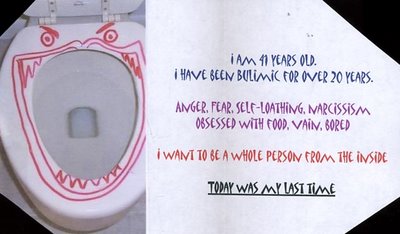 This postcard from PostSecret made me want to stand up and cheer for the writer. Managing bulimia is an ongoing practice, but every day starts with that rededication. That was "The Last Time" can be a reality if you just nuture and love yourself.
---
PostSecret's beneficiary is the National Hopeline Network. It is a 24-hour hotline (1 (800) SUICIDE) for anyone who is thinking about suicide or knows someone who is considering it.
Previous: A New Kind of Exercise Video
Next: PostSecret: Trunk

2 Responses to "PostSecret: Today Was Last Time"
vh Says:
June 1st, 2006 at 11:36 am

Thank you for posting, I wish her well and hope she gets the help she needs.

Picture It: Says:
June 14th, 2006 at 5:29 am

How many times have I said "This is the last time I will binge"

Because I now know that it may never be the last binge, I am able to handle my binges better and accept that I have a problem that will take time to heal.
Leave a Reply
-