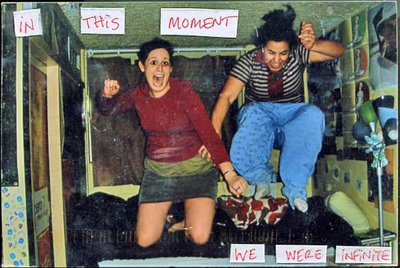 When I saw this postcard on PostSecret, I realized the truth: every moment is an infinite moment. We only need to recognize it.
Next time you're feeling down, remember. In this moment, you are infinite. You can achieve anything and you have the time to do it. Stop doing things that don't matter to you. Stop wasting your infinity and start using it to create joy in your life.
You can do it!
---
PostSecret's beneficiary is the National Hopeline Network. It is a 24-hour hotline (1 (800) SUICIDE) for anyone who is thinking about suicide or knows someone who is considering it.
Previous: PostSecret: After 4 Years of Eating Healthy
Next: What's Up With High Fructose Corn Syrup?

One Response to "PostSecret: You Are Infinite"
vh Says:
May 24th, 2006 at 6:31 pm

I want to create joy for others, my family, but I find joy in helping others.

I plan to be a good health example to my family. I plan to create value for others. I plan to be a good wife and mother.

I plan to try my best.
Leave a Reply
-