I created this exercise video for me. I hate to listen to exercise gurus talking while I exercise. All I wanted was to be able to run on the treadmill and imagine that I was walking on a beach or running through the woods or strolling through a botanical garden. I just wanted something that would be quiet and let me enjoy the walk on my treadmill and a little pretty scenery on the way.
Last time we were in California, I took my friend's video camera and walked along the beach for over 45 minutes. The result is a new kind of exercise video for me and you to enjoy. It's a quiet walk along the beach. All you hear is the ambient noises of the area. There is no coach talking over the sound of the waves. It's just you, the water, the wind and the sea birds.
This video is only a minute and a half, but it gives you an idea of what you will see.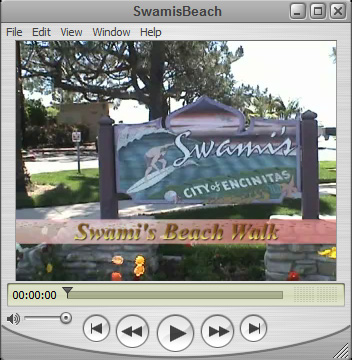 I want this DVD to get out to as many people as possible, so I'm selling them for $5 plus shipping. If you workout with it once, it's totally worth the price. If you enjoy it twice, then I've completed my mission.
I love this video and have worked out with it several times. Mike, however, didn't like it and stopped it five minutes into the video. I gave it to a few people to test, hopefully they will comment on what they liked and didn't like here so you can hear it straight from their mouths.
The DVD is 49:13 minutes long and will be shipped via U.S. mail. For only five bucks, you can take a vacation on the beach whenever you want. If you want to buy one, click on this link.
Update 07-28-06: I just created a NEW video called Sugarhouse Walk. It's way better than this one. Click here to find out more:
We have bulk pricing if you order more than one video.