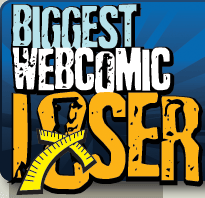 I read a comic called Mousewax. The artist, Brandon Lewis, is participating in the Biggest Webcomic Loser. It's a contest in which webcomic artists are taking pledges on their weight loss for Unicef.
I just finished reading all the comics on the site and some of them are weight related and pretty funny. Here are some of my favorites:
I enjoyed skimming all of these comics and laughing to myself. Sometimes we need just a little levity to make it through the day.
Previous: Skinny People Sweat Too
Next: Clandestine Clementines

One Response to "Biggest Webcomic Loser for Unicef"
VH Melville Says:
April 25th, 2006 at 7:12 pm

I wish them all luck

VH melville
Leave a Reply
-