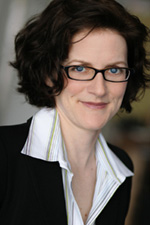 One of the wonderful people that I passed in the halls at SXSW, Colleen Wainwright, writes about feeling deprived on her weblog.
She is painfully skinny at times because Crohn's Disease has attacked her body, but she intimately knows what it's like to feel deprived.
"So now I find myself feeling deprived in a way I never have before, having to figure out how to fill up the hole with something other than what I know would fill it. I realize that somewhere down deep, I always felt deprived; I just got to hide it longer. The fat girl, she knows all about this, I think. We're more alike than I knew, although having walked through the fire, she is probably kinder and less judgmental than I."
She avoids breads, starches and sugars in order to starve the bacteria in her intestinal track and keep them from causing her harm, but this results in the familiar feeling of deprivation that we all feel when we are on a "diet."
When we feed ourselves food that will hurt us, what are we feeding?
Previous: Pressured to Eat?
Next: A Whole Website About Treadputers!

3 Responses to "Deprivation"
communicatrix Says:
April 22nd, 2006 at 5:21 pm

Aw, shucks. The feeling is mutual.

I'm really interested in getting to the root of this deprivation thing. I've a feeling the answer lies in finding the joy in the foods I can and 'should' eat.

But I think the meta-answer is something along the lines of 'treat yourself like the precious object you are'. Just thinking about what that means to you can be pretty profoundly earth-shifting.

Braidwood Says:
April 22nd, 2006 at 5:58 pm

root of this desperation thing: hunger. Eat more, feel less deprived.

You Can Do It ! Says:
April 24th, 2006 at 4:37 pm

When we feed ourselves food that will hurt us, what are we feeding ?…..is the question. Speaking for myself, at times, I feel that I am no different from an alcoholic…………….Feeding a sickness.
Leave a Reply
-