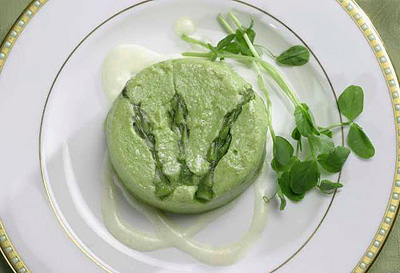 Easter is the end of Lent, meaning that you can eat all the things that you gave up during the Catholic time of denial. What did the L.A. Times reporter find among the Italian communities after 40 days of Lent? Two words: Asparagus Flan.
This dish is made with whole asparagus tips and thick béchamel (thicker and heavier than cream), so this isn't a healthy dish at all, but in moderation, it's an interesting change of pace. I wanted to know if it was sweet or savory, but the review doesn't specify. I thought it was savory until they talked about the sauce,
"For the sauce, I substituted Fontina because it has a more mellow flavor than Parmigiano; it suits the borderline sweetness of the asparagus. But the sauce could be dispensed with altogether, especially if the flan is served as a side dish rather than a first course."
I think it's a savory dish, but with fontina cheese and heavy cream, it should be enjoyed in moderation.
Via: Italian Easter, Vegetables, and Sea Salt – LA Times Food section in 60 seconds – Slashfood
Previous: Question of the Week: Laura's Writeup
Next: Five Buck Workout

2 Responses to "Two Words: Asparagus Flan"
Tish Grier Says:
April 19th, 2006 at 11:33 am

This is definitely one of those "in moderation" dishes, but also one of those "special time of year" foods. One thing I've become rather conscious of lately is how, in the U.S. anyway, we try to have certain kinds of foods that used to be considered "holiday foods" either all year or for longer periods of time when they were originally eaten. Around W. Mass, where there is a large Polish population, grocery stores will carry huge boxes of paczki (a special over-loaded donut) even after Ash Wednesday. One is supposed to be a sufficient "Fat Tuesday" treat, not six! It's really kind of strange, I think.

"How to make a scrapbook" Debby Says:
March 4th, 2009 at 2:50 pm

You're probably not going to believe this but after reading this short post my mouth actually started to water. I understand the tongue-in-cheek tone of the post but at the same time for one who like to try new foods this seems like the perfect dish. I wish there were more directions on how to make it.
Leave a Reply
-