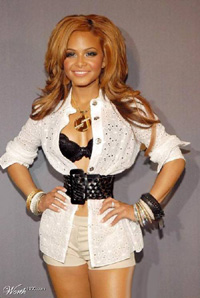 This photo of Christina Milian was an entry in the Photoshop contest, Worth 1000. The picture is done so well, however, that I wouldn't be surprised if it showed up in a woman's magazine. Of course, the author of the article would be "concerned" for Christina's health and have an entire sidebar about corseting.
Next time you look at the pictures in women's magazines, remember that with digital photo editing, artists today can make almost anything look real. Don't believe everything you read or even see. Eating good food and exercising is about getting our bodies healthy, not living up to some ideal that may or may not even exist in reality.
To see the full size photo and the rest of the entries for that contest, click here: Worth1000.com | Photoshop Contests | Celebrity Sideshow 7
Previous: Yourself! Fitness and Xbox 360
Next: Video Confessional

One Response to "Photoshopped Christina Milian"
Derrick Says:
June 30th, 2008 at 6:06 am

One thing for sure, Christina is the consummate fox. Too bad she got dropped from her record label, but I don't think it really matters. You can see why that is obvious.
Leave a Reply
-