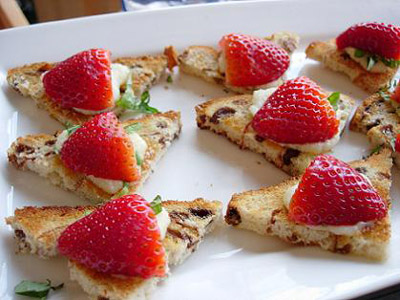 The original recipe for this treat is relatively low in calories except for one ingredient: marscarpone, which is a creamy cheese that is usually a little sweet.
A Blithe PALATE: Strawberry Basil "Bruschetta"
A simple substitution can create a beautiful and healthy treat that will make you feel like you're eating decadently for less calories than a Twinkie.
2 slices cinnamon raisin bread
1/4 cup sugar free and fat free yogurt (instead of the marscapone)
1 T honey (because the yogurt is sweetened, use less honey)
4 large strawberries, rinsed and hulled, cut in half
1 T fresh basil leaves, chopped into a fine chiffonade
Follow their directions:
"Toast the slices of bread, then cut diagonally for four toast "points." (Alternatively, you can use a round cookie cutter and cut out toast rounds; cutting diagonally simply prevents waste)."

"Mix together mascarpone and honey. Pipe or spread honey mascarpone mixture onto bread. Sprinkle with basil chiffonade. Top with strawberries and remaining basil."
Depending on the brand of cinnamon raisin bread, the calorie count will range between 150-300 calories. If you are careful when you buy your bread, you can have a low-calorie treat that makes you feel like a pampered aristocrat.
Previous: You Are Beautiful
Next: Dying to be Thin by NOVA

One Response to "Strawberry Basil Bruschetta"
Misty Says:
April 21st, 2006 at 5:09 am

I brought this to the ladies' Bible study last night and it was a big hit. I used whipped honey cream cheese in place of the yogurt/honey, and I didn't put on any basil.

Thanks!
Leave a Reply
-