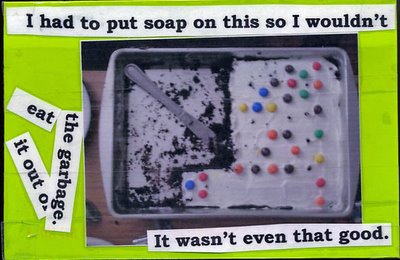 Damaging food so that you can't eat it is one way of avoiding overindulgence. It's true and I've done it.
I usually put my napkin on the food and press it in so that I won't want to eat it. It's as if the napkin has "contaminated" the food. I've also poured water on my leftovers so that I wouldn't pick at them while I waited for the waiter to take it away. I've heard that pouring salt over food is supposed to work, but I crave salt so much that I don't think it would be much of a deterrent for me.
What if I didn't need to damage food in order to be "safe"? What if I was able to leave a half-eaten entree on the table untouched? Would I be cured then? Is that my next test? I won't take the food home in a container. I won't damage the food so I can't pick at it. I won't share the food with someone else. I'll just let it sit there, untouched. I think that's my next step in this evolution.
---
PostSecret's beneficiary is the National Hopeline Network. It is a 24-hour hotline (1 (800) SUICIDE) for anyone who is thinking about suicide or knows someone who is considering it.
Previous: Raw Food Enzymes and Quackwatch
Next: Question of the Week

4 Responses to "PostSecret: Soap"
Leave a Reply
-