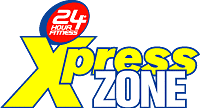 Over a month ago, I started going to the gym three times a week to do the Xpress Zone workout. Here's what I have noticed:
Weight training initially slows weight loss: Even though I have been eating very healthy the last month, I have only lost two pounds (as opposed to my usual pound a week when I'm eating healthy).

I am toning up: Even though I've only lost two pounds, I am toning up. My clothing is fitting better, so I KNOW that I am losing fat. It's just not showing up on the scale yet. This is hard for me to face when I have to weigh once a week, but it's great when I pull on my jeans.

Gyms are full of gross, sweaty people: 24 Hour Fitness has a rule that you're supposed to carry around a towel and clean up after your own sweat, but it is NOT enforced at my gym. I end up using my towel to clean up the sweat of dripping wet, gross people.

Gym ettiquette is non-existent: People crash down weights, grunt and scream and sit like zombies on the circuit (Xpress Zone) machines. I've even had the 24 Hour Fitness personal trainers sit their clients at the circuit machines and have them do their exercises, talking to them while they rest between sets.
What's the verdict?
I love weight training, but I HATE the gym.
Tune in tomorrow to see what I decided to do to keep up with my weight training without having to wipe up the sweat of other people.
Previous: Mother's Wisdom
Next: The Deification of Food

8 Responses to "24 Hour Fitness Xpress Zone: Update"
Leave a Reply
-