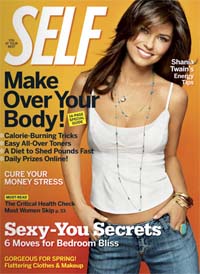 You need to go to the closest store right now and pick up the March issue of Self Magazine. Right at the top of the magazine, they have the story, "Wow! Shrink a Size Naturally" advertised. It's on page 156 and I nearly missed it. Hidden after the makeup and the clothing, I almost ignored this article. My attention span for women's magazines is less than a full magazine, so I am so glad I didn't pass this one by.
Self Magazine convinced six women to give up their favorite over-the-counter diet pills and try exercise and healthy eating. The called their article, "Squeezing Out Diet Pills" and the results these women saw were phenomenal.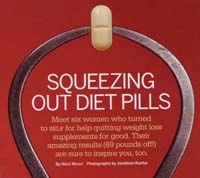 They threw away their Zantrex-3, Total Lean-Control, Trimspa, Suvaril, Metabolife, Metabolife Ultra Caffeine Free, and Cortislim in favor of eating and exercising according to the Self Challenge. One of the six women gained 1 pound of muscle, but the rest lost between 8 and 20 pounds where their diet pills had done nothing before.
Next time you think about throwing your money away on these diet pills, remember that simple eating and exercise can give you far better results.
Previous: The Starling Fitness Word Cloud
Next: A Utah Non-Mormon Talks About The BYU Study

One Response to "Wow! Shrink a Size Naturally"
Eh... not so much Says:
February 24th, 2006 at 5:16 pm

Very cool!
Leave a Reply
-