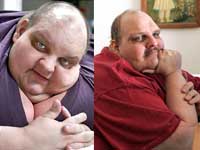 I wrote before about Patrick Deuel and his struggle with weight loss:
He is still working toward his goal of a healthy weight. Right now, he is scheduled for surgery to remove his pannus, which is a flap of skin that hangs from his belly down to his knees. The pannus is interferring with exercise, walking and all of Patrick's plans to get closer to his goal.
Convincing his doctor that the surgery was necessary was difficult. It's hard for anyone to understand the difficulty of dealing with that much excess skin. I think about how much harder my daily run would be with a 70-pound pillow stuffed into my jogging pants and I understand that this surgery is necessary.
I wish Patrick the best of luck. I hope he comes through the surgery and finds his life changed by the renewed mobility.
Update 03-09-06: He got the surgery. He's doing well.
Previous: Pace 12:00
Next: Some Doctors Believe Obese Should Be Refused Treatment

One Response to "Update on Patrick Deuel"
Ronnizia Says:
March 9th, 2006 at 1:59 pm

He got the surgery completed:
-