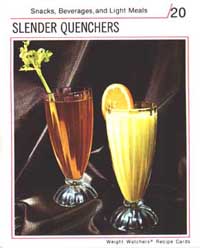 When I first saw this collection of recipe cards and her hilarious accompanying descriptions, I laughed at every single one. This time, I was seriously looking at them thinking, "Hmm, maybe there are some good ideas here."
After looking at them all again, sadly, there are no good ideas here. All of these recipes are an atrocity to food. Luckily, Weight Watchers doesn't promote these recipes anymore. I wonder how many Points the Snappy Mackerel Casserole is.
Previous: What Will I Be Like When I'm At Goal?
Next: 2007 Tour De France to start in London

2 Responses to "Wendy McClure rescues old Weight Watchers recipe cards, circa 1974"
La Donna Says:
February 4th, 2010 at 10:57 pm

I remembered a Weight Watchers late 1970's breakfast pancake made with a slice of bread and I think cottage cheese and blueberries. I have looked all over for it and can't find anything that looks like it. Might it have been in this group of old recipe cards?

Paula Fischer Says:
May 8th, 2012 at 7:48 am

I did well with more structure than the new program provides. I had gastric bypass surgery in 2004 and initially lost 250 pounds. I have managed to keep off a little better than 200 pounds but due to severe depression, my appetite has returned with a vengence.

I would love to get my mitts on a program from 1975-1988 any of these will be a blessing.

Thanks!
Leave a Reply
-