Laura,
I've started having neck stiffness since I started running. I know it's from running because the stiffness goes away on the weekends when I don't run. I stopped holding on to the handrails on the treadmill and I even had someone look at my form when I run, but they didn't notice any problems.
Do you know any neck stretches that I could do before and after exercise to help with the stiffness?
Thanks,
Mike
---
Mike,
Firstly, you might want to make sure your form is correct and there aren't any underlying problems by seeing an orthopedic doctor or a physical therapist. After you've done that, here are a couple of stretches that might help with the stiffness and pain:
Ear-To-Shoulder: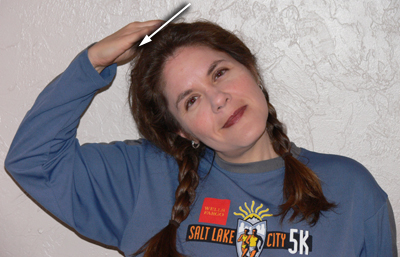 Stand up straight with your shoulders down.
Lower your ear as close to your shoulder as possible.
Raise your hand, place it on the top of your head and GENTLY lower your ear closer to your shoulder until you feel a good stretch.
Hold the stretch for 20 seconds and repeat.
Stretch the other side.
Intense Neck Stretch: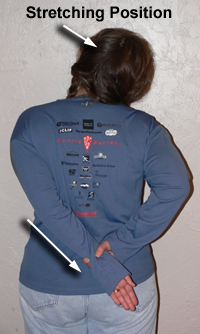 Grab your wrist behind your back.
GENTLY pull the arm toward the opposite hip.
At the same time, lower your ear to your shoulder.
Hold the stretch for 20 seconds and repeat.
Stretch the other side.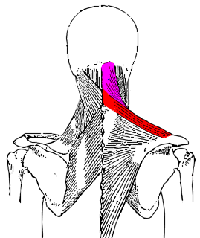 These exercises stretch the upper trapezius (shown here). You should feel the stretch in the highlighted areas. If you feel the stretch somewhere else, check your form and try again. The stretch should not be intensely painful. Always check with your physical therapist for more information.
If you are experiencing pain elsewhere, then there are other exercises and stretches to strengthen that area. You can find more information at the Exercise & Muscle Directory.
Good Luck,
Laura Moncur
Previous: Why I Believe in Fat Acceptance
Next: Beauty Kit by Pleix Films

4 Responses to "Ask Laura: Neck Stiffness"
Leave a Reply
-