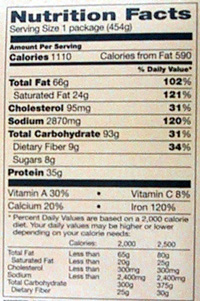 I've received the following comments on my entry about the Hungry Man Sports Grill:
Alison said:
Who cares how fattening it is; it tastes soo damn good. I am a girl and a college athlete, ha the other day I ate two haha. It has quickly became my new favorite TV diner. GO SWANSON
Matthew said:
This line is da bomb. All tv dinners suck but these are actually edible and the cheese fries are quite tasty, do em in the oven though the microwave just makes em soggy.
---
I really don't know what to think about these comments. The one from Matthew is particularly interesting to me because he states, "This line is da bomb." That sounds innocuous enough, but how many people actually think of groups of TV dinners as a "line"? Only marketing people and people who SELL TV dinners think of them as a "line".
Are these comments just a ploy from Swanson to try to soften the hard truth that one of their products has as many calories and fat for an entire day?
Previous: CES: Wrap Up
Next: Eat Less. Exercise More.

4 Responses to "Is Swanson Trying To Soften The Blow?"
Leave a Reply
-