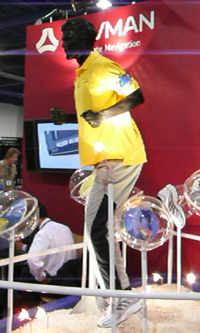 GPS systems were featured heavily at CES, but only a few of the booths focused on the sports aspects of the tool. Most of the GPS systems focused on the automotive features, but NavMan had a whole section about fitness.
This unit is called the NavMan R300. It measures your speed distance and pace. It would work while running or on your bicycle. Unfortunately, there was no one at the booth to answer our questions about the product, so I have no idea about its performance in "urban canyons" and in heavy tree foliage.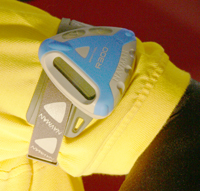 It appears to be a little bulky on your arm, but no more so than an iPod Mini. Of course, it doesn't play music, it just measures your progress. They didn't have any units out that I could try on to see how they feel. All their products were behind glass, so I couldn't even play with them to see if they were easy to use.
Without being able to get a close up view of them, I'm reluctant to recommend them. As always, you can track your course using the Google Pedometer, so that might be the best case scenario until something more portable comes along.
Click here to see the NavMan website:
Previous: CES: Tacx Videos for Your Bike Trainer
Next: CES: Journey to the Wild Divine

Leave a Reply
-