The Garmin booth at CES sported a bike signed by Lance Armstrong that had a Garmin product mounted on the handlebars. There was no information nearby about the little GPS indicator and the bike was mobbed by people just wanting to see Lance's autograph. Can you imagine if Lance Armstrong had actually attended CES? I wouldn't have been able to get near the booth.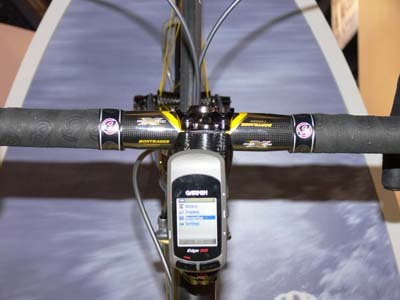 I was more interested in Garmin's new Forerunner 305. It's a heart rate monitor and GPS tracker. The cool thing about this huge watch is that it's supposed to work better in urban canyons and deep forests. GPS tends to have trouble tracking you when you are surrounded by huge buildings, but the Forerunner 305 is supposed to be better in that respect. Of course, the model that they had there didn't work in the Las Vegas Convention Center, so I have my doubts about how much better it might be.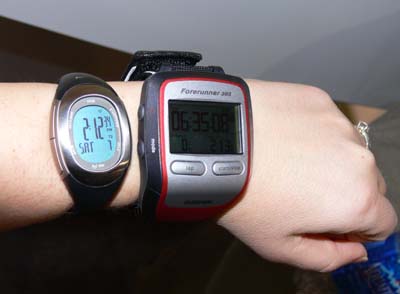 Here is a picture of the Forerunner 305 next to my Nike Imara. As you can see, the display is more difficult to read than my Nike watch, but the Forerunner also has the disadvantage of being huge. The Forerunner 305's suggested retail price is $377, which is almost four times the cost my my Nike Imara. At that price, I'm sticking with my heart rate monitor and using the Google Pedometer to calculate my distance. It's probably more accurate in the city anyway.
Click here to see Garmin's Website:
Previous: CES: XaviX Prototypes
Next: PostSecret: Can't Remember

6 Responses to "CES: Garmin GPS and Heart Rate Monitor"
Leave a Reply
-