I am attending CES (the Consumer Electronics Show) in Las Vegas, Nevada. I will be reporting on the health and fitness gadgets I come across during the show.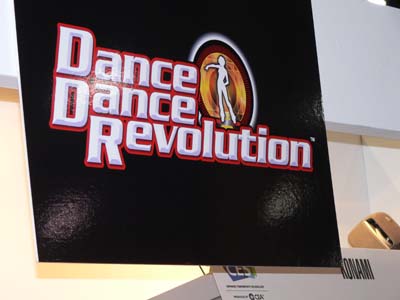 Konami's booth at CES was so NOT what I was expecting. I expected a big booth with multiple machines playing the large range of Konami's DDR games on Xboxes, PlayStations and the PC. I expected a lot of noise and people playing. Instead, it was a small booth with two employees of Konami playing. They were doing a spectacular job of it, though.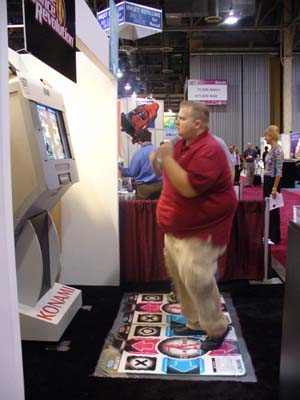 I have heard lots of people say things like, "I'm too heavy to play that game," or "I'd be too embarrassed to play that game." After watching these two guys play DDR on Heavy and both of them get great grades, you have to admit that all of those excuses just evaporate. Of course, the idea that playing DDR alone will get you thin also evaporates. Weight loss requires rigorous exercise (like DDR) AND a healthy eating regime. Unless you have both pieces of the puzzle, you won't lose weight. You can do this, you just have to give it a two-fisted punch.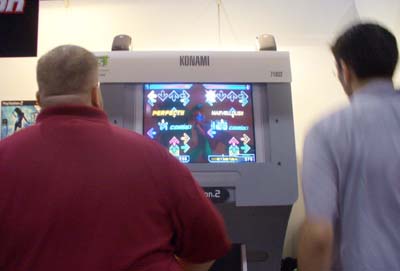 They were demonstrating DDR Extreme 2 for the Sony PlayStation 2. After playing with DDR UltraMix 3 for the Xbox, Extreme 2 seemed really simplistic. The graphic interface is so much cleaner with DDR-UM3. They let me play and the pads and game reacted exactly the same as they would on my Xbox. Play was the same, it was only the graphics that were different. They gave music CDs of the songs on DDR-X2 to the passerbys and tried to urge the middle-aged men to play along, but I was the only one I saw playing. That was kind of disappointing because I expected a loud and exciting crowd.
Of course, after I played my song, I turned around and saw a crowd of people gathered to watch. It seems that all of these executive types secretly wish to jump in and play, but are only willing to enjoy it vicariously. If you find you are doing that with anything, please, let yourself jump in and play. Don't worry about embarrassing yourself. Just jump in and do it, whether it's playing DDR, learning to ski, or trying anything else that your heart is calling to you. Don't be one of those people on the sidelines saying, "I wish I could do that." Just jump in and try it!
Click Here for Konami's DDR Website:
Previous: Eating Healthy Isn't Expensive
Next: CES: PowerGrid Fitness

5 Responses to "CES: Konami and DDR"
Leave a Reply
-