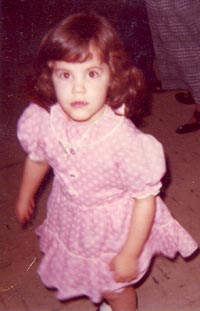 This is a study that tracked toddlers and their parents' perception of their eating behaviors.
Parents of children as young as three years old subconsciously pressure their girls to eat less:
Researchers found that parents of 3-year-olds worried that their sons but not their daughters were underweight—even though the weights and body mass index of the boys and girls in the study were nearly identical. They also said that their daughters ate enough food, but their sons did not.
I KNOW this is true. I actually remember my grandma worrying about whether I was fat or not when I was four years old. It's a vivid memory and sometimes I believe that my personality came into being on that day that I overheard my grandma badgering my mother about my weight. I look at those pictures from when I was four and I was NOT fat (see picture above).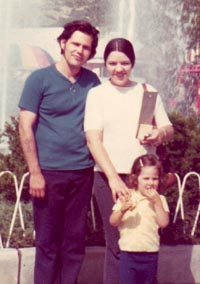 My grandmother had my entire family convinced that we were all fat. My dad is still struggling with those issues today. When you look at this picture, how could she have told any of us that we were fat?
Body image is a much more complicated thing than the number on the scale or the size of clothing that we wear. It can come from the most unexpected places and the perceptions of our parents can actually cause us to become what they think we are. I was not fat when I was four years old and my grandmother was so concerned about me, but I DID become fat later in life because I considered myself a fat girl for so long.
My grandma was just doing the best she could with the knowledge she had way back in 1973, but parents today have so much more at their disposal. Don't let the worries that you have today become a fact in your child's life years down the road. If you are concerned about your child's weight, here's the best advice I can give you.
Previous: Happy Chrismahanuhkwanzakah!
Next: The Benefits of Yoga

2 Responses to "Eating Disorders Can Be Tracked to the High Chair"
Sarabeth Says:
December 27th, 2005 at 1:39 pm

I have three children: two girls and one boy. With my children I'm more worried about them not eating enough. But that's not my point. I'm health conscious, follow the Weight Watchers plan, and exercise. When my four year old daughter asks me why I exercise I tell her so I stay healthy. She answered me back one day saying, "And so you don't get fat." Boy did that take me by surprise!

lj Says:
December 27th, 2005 at 4:10 pm

I don't wholeheartedly agree with that, but there is some truth to it. A child absorbs much from the world around her/him, much more than one might think. My mother has been a dieting fiend forever. Some of my earliest memories are of her counting calories and listening to weight-loss tapes. I thought she was beautiful as she was… (she has never been obese, just a little extra curvy ever since that third kid sixteen years ago.) and i didn't know why she was so obsessed with exercise and dieting, but i accepted it as truth because what did i know? i was just a little girl. It is pretty apparent that this had an effect on me, i spent most of my teen years battling an eating disorder. I certainly don't blame her for that, but there is something to be said for it.

Now in my twenties, i find that i have become exactly like my mother. Her body mass is probably around 26, mine is a healthy 21, but we refuse to see anything but the width of thighs, the extra insulation covering otherwise-strong abdomens. We compare dieting trials and tribulations, swap low-cal recipes and share workout regimens… sure it's a great chance for some mother-daughter bonding, but if i ever have my own little girl, i would hate for her to grow up with that. I would want her to have a positive and healthy body image, no matter what.
Leave a Reply
-