I've been meaning to write about this new way of eating that I have found to really help me lose weight. I've been really happy with it and I found it by accident over the Thanksgiving holiday. I SLAM-DUNKED Thanksgiving by exercising a lot on the two days that we were visiting family. I ate a lot, but I made up for the extra calories by exercising.
After all that exercising, I was tired, so Sunday and Monday, I rested. Because I wasn't exercising, I didn't eat as many calories. I limited myself to my daily allotment only. The Tuesday weigh-in, I had lost 3.6 pounds, which is HUGE for me. I seriously thought it must have been mostly water.
Since that method worked for me, I followed it exactly the same way the week after Thanksgiving. I exercised a lot and ate all the calories that I earned. On Sunday and Monday, I rested and ate substantially less calories. My second weigh-in following this regime had me lose .8 pounds, which is even more amazing. For me to lose two weeks in a row is phenomenal. The third week, I lost .2 pounds. That's a loss for three weeks in a row. I haven't had this much success since I first started Weight Watchers. This is the fourth week on this plan and I'm hoping for a real loss this week. I guess we'll see.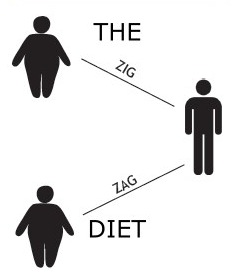 I thought I had invented a new way of eating, but then I found out that this regime has been around for a long time. It's called Zig-Zagging and it was developed by Frederick C. Hatfield, Ph.D., MSS. He calls himself Dr. Squat. Here's a synopsis of the concept of Zig-Zagging:
I don't agree with everything he says. This is his advice for caloric restriction days.
"Your reduced intake of calories makes it almost impossible to get all of the nutrients your body needs to remain healthy and active. So, it's important to supplement your diet with vitamins, minerals and other carefully selected substances to ensure maximum progress toward your fitness, health and fat loss goals. So, you MUST use nutritional supplements!"
That's bunk. The healthiest foods are low in calories and all it takes is a little planning to fit them into your lifestyle, even if you're really busy. He's trying to sell you nutritional supplements, so take some of his advice with a grain of salt.
I think the most important part of this program is that I exercised like crazy on the days that I ate more calories. On the days that I ate fewer calories, I didn't exercise, so I didn't put my body into shock. Additionally, the calorie-restricted days were the two days before my weigh-in. I might not have invented this idea, but it has been working for me better than I have had in a long time. I kind of wish someone had told me about this idea before I had to go and invent it on my own.
Previous: Working Out With An Indoor Bike Trainer
Next: The Entertrainer

One Response to "The Zig Zag Diet"
Eh... not so much Says:
March 7th, 2006 at 5:51 pm

For Weight Watcher followers, there's something called the Wendie Plan, which is basically shifting your points around during the week so you have big feed days and light eating days. If you Google or A9 it, you'll find it.
Leave a Reply
-