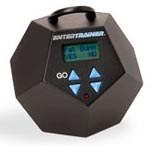 This product is interesting. It's a universal remote that is controlled by a heart rate monitor. You set the heart rate training zone that you want to achieve. For me, that would be at least 128 bpm. If my heart rate falls below that level, this little black thing will start turning down the volume on my television. If I work too hard, it will start increasing the volume. If I get far too low, it will turn the TV off. Considering the reliabiltiy of heart rate monitoring devices, I can only imagine the TV flickering on and off as it gets a poor signal.
This silly little gadget is like any other fitness item. If you don't use it, it doesn't work. You can't leave this thing on all the time because you don't exercise all the time, so you would have to turn it on when you start exercising. That just adds a step to getting on the treadmill. I find that all I need to do is start exercising and that's enough to get me going.
Instead of a motivational piece of plastic, tell yourself this, "I'll just do five minutes." If I get on the bike or treadmill and tell myself that I'll just do five minutes, that's enough to get me working out. Once I'm working out, I usually feel good enough to do my full workout. It's getting on the thing in the first place that is the hardest for me.
Instead of spending a hundred bucks on a universal remote control, print up the words,
I'll Just Do Five Minutes
and post them all over your house. That will probably get you motivated to exercise far more than any pricey piece of plastic.
Via: DDR4Health: Winning Invention Powers TVs with exercise!
Previous: The Zig Zag Diet
Next: Learn The Major Muscle Groups

Leave a Reply
-