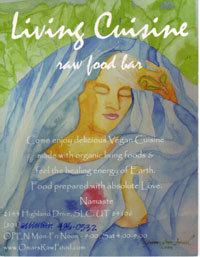 As I was reading this restaurant review, imagine my surprise that the national news was doing a review of a restaurant in my hometown of Salt Lake City. I was even more surprised when I found out that the cafe in question was just down the street from my house.
Of course, Mike and I ate at the restaurant the next day. Mike ordered the Hummus on Romaine Lettuce Leaves and I ordered the Falafel Salad. I was curious to find out how they were going to manage making Falafel without frying it. It turns out that they dehydrate the Falafel until they are like thin crumbly chips. The food was excellent.
The story was repeated within our presence. Mike and I waited at the table for our order and listened to Omar tell the mystical story of his conversion to Raw Food. He made it sound like a religion. He was visited in a dream by a woman he had never known before. In the dream, the woman handed him a book. Later, Omar realized that the woman from his dream was a real live woman. At this point, all of this sounds like an elaborate pick-up line. It went wrong for Omar, however, because the woman was married. She DID hand him a pamphlet on Raw Food, though. That was the moment that changed his life.
He gave up on his geophysicist training and ended up in Salt Lake City, Utah, opening the Living Cuisine, Raw Food Bar. As far as the food goes, it tasted really good, but we didn't see Omar prepare it. There were two employees in the back making the food. Omar seemed to be the "personality" of the cafe, talking up the customers and telling his story.
Our trip to Living Cuisine was an interesting one. I always find it fascinating when food and religion become so intertwined that they become one jumbled mess. It's like dinner theater and the Gospel Brunch all mixed in one.
---
Living Cuisine
Located inside Herbs For Health
2144 South Highland Dr (1100 East)
Salt Lake City, Utah 84106
Phone 801-466-0332
Previous: The Self Diet Club
Next: Exercise Intensity Levels Using a Heart Rate Monitor on Weight Watchers

8 Responses to "Living Cuisine Raw Food Bar"
Leave a Reply
-