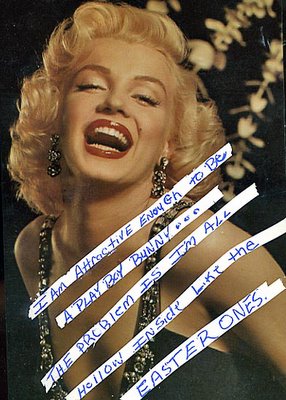 I don't know about the rest of the world, but this secret that was posted on PostSecret is a personal fear of mine. Even though I have lost a lot of weight, I haven't hit PlayBoy Bunny status. Part of the reason is that I stopped wearing makeup and working so hard on my appearance when I lost the weight. Another part is that I'm still 30 pounds away from my goal weight and 45 pounds away from PlayBoy Bunny weight.
What if I get to goal weight and I become vain? Isn't spending so much time on losing weight just another form of vanity? What if I lose weight and think I'm finally beautiful, but it turns out that I was one of those fat AND ugly people? What if losing weight doesn't make me pretty? What if losing weight makes me shallow and hollow like a chocolate easter bunny?
All of these worries have plagued me for years. The best that I have been able to do to curb them is quit wearing makeup and concentrate on health. I started this journey because my stomach hurt me all the time. Concentrating on that aspect of eating healthy has been the most helpful to me. I am not losing weight to be a beauty queen. I'm losing weight so I can live on this planet a couple of more years.
If any of you have conquered this fear, leave a comment. I'm sure others are fighting with this issue and I KNOW that it has been interfering with my weight loss for a long time.
---
PostSecret's beneficiary is the National Hopeline Network. It is a 24-hour hotline (1 (800) SUICIDE) for anyone who is thinking about suicide or knows someone who is considering it.
Previous: A Poem Dedicated to Yourself! Fitness
Next: A Good Idea with Costly Execution

One Response to "PostSecret: Chocolate Bunny"
Katherine Says:
November 28th, 2009 at 5:14 pm

Just the fact that you have lost weight is good. But, it seems like your fear is a fear that you will just have to overcome within yourself. Mine is that I will never be back to the weight I was senior year of high school without an eating disorder again.
Leave a Reply
-