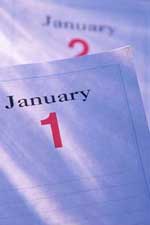 This is the time of year where people make New Year's Resolutions. Based on the traffic levels, it looks like a lot of people have resolved to lose weight this year. It's a common resolution. How can we make it last longer than January 2nd, though?
I'd like to say I knew the answers, but I really don't. I don't do too much with New Year's Resolutions. Last year, I posted my resolutions for everyone to see on Pick Me! I didn't make two of the three, but knowing that they were there, holding me accountable, made me work on them a lot more over the year than if I had just thought about them casually at midnight.
I joined Weight Watchers on January 17, 2002, but my joining had nothing to do with a resolution. I was sick of being overweight. I was finally to the point where I loved my body and I wanted to take good care of it so it would last a long time. I wanted to be able to climb stairs without huffing and puffing. I wanted to finish a 5K race in better than 40 minutes. I wanted to spend a day without severe stomach pain. I was so ready for Weight Watchers when it came into my life. It had nothing to do with resolutions and everything to do with quality of life.
So, what can I tell you about New Year's Resolutions? Not much…
Make Them Measureable: Rather than resolving to lose weight, choose a goal that is easier to measure. Do you want to be at your goal weight by next year? Then write it out in easy to read sentences, "I will weigh 130 pounds next January." Resolving to "lose weight" can be achieved by losing one pound, but I doubt that was your intention when you chose that goal.

Make Them Realistic: Don't commit to it unless you KNOW you can do it. Making unrealistic resolutions is just creating an excuse to hate yourself. If you know you would have to starve yourself all year long just to make it to your goal, then it's not a good goal for you. You need something that is doable and fits in with your life.

Tell the Freakin' World: If you tell your sister and your mom and your dad and your girlfriend and that vindictive woman at your work about your resolutions, you're more likely to succeed. Just knowing that the witch at the front desk is going to ask you about your progress can be enough sometimes.
Tonight, when you hear the countdown to 2006, remember your resolutions and make a wish. Let's make them last all year long this year!