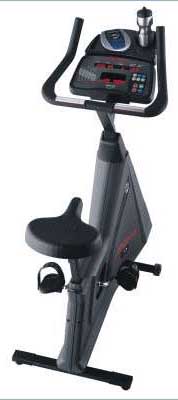 Last week, I went to the gym for my workout. I've been using the treadmill pretty heavily, so I wanted a workout that worked some different muscles. I chose the upright exercise bikes. My gym owns the Life Fitness exercise bikes, which have a workout called "Random." I chose that workout and set the bike to my usual level.
I really wanted a hard workout, though, so I decided to kick it up a notch. Every time the random line of dots was seven dots or higher, I would stand up in the saddle. The Life Fitness bikes aren't like the spinning class bikes. It's VERY difficult to stand up in the saddle because the pedals won't support your weight. I needed to concentrate very carefully to keep my movements from being jerky.
While I was standing up in the saddle, I repeated the word "Smooth" to myself over and over so that I would keep good form during this difficult time. I would also keep my eye on the clock and count down the last five seconds.
The standing up sessions were as short as 10 seconds, but never longer than 50 seconds. My heart rate got higher than I should have let it, but it kept my interest on the workout. I had already chosen a level that was difficult for me. Standing up in the saddle made it the major workout of my week.
Try this workout and see how it feels to you. It made my 40 minutes fly by and I felt so energized after it.
Previous: Clinical Description of Binge Eating
Next: Diet Book Review: The No Fad Diet

One Response to "A Workout That Will Kick Your Butt"
Bob Says:
November 25th, 2006 at 8:36 am

Most of us have to come to terms with the ever changing world and it's needs. This often results in a continues change to our lifestyle. The demand on our time increases and often leaves little time for important things such as exercise to keep us in shape. Bicycles are a great way to help us stay healthy and fit. A bicycle is also 'green' friendly and, apart from excellent exercise, is a great and inexpensive way to get around. To maintain your fitness during bad weather or the winter months, one of the indoor exercise bikes shown here is just the thing.
Leave a Reply
-