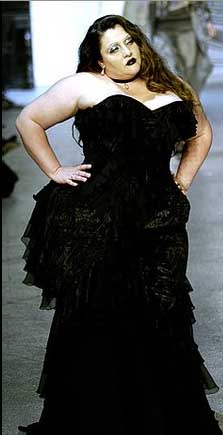 This photo is stunning. John Galliano's spring show included this fabulously beautiful model among his waifs. He also included older models, a dwarf and other extremes of the human form. The reviewer stated that the show "evoked a carnival sideshow." I don't know if that is what John Galliano was shooting for, but I don't care.
For once, he showed that fat and beautiful are not mutually exclusive descriptions. This woman is drop dead gorgeous and I want to own that dress, even though I have no where to wear it. Even if he was trying to promote a freak show atmosphere, I don't care. Fat AND beautiful women were no longer invisible for this one show. They say that the show attendees laughed when the models walked out on the runway. I'd rather be visible and laughed at than invisible and ignored.
I'm not a slave to the fashion world. Before reading this article, I had never heard the name John Galliano. The only reason I know who Karl Lagerfeld is because he lost a lot of weight. I think I've ignored the fashion world because they never made clothes for me when I was fat. Now that I'm thin, they can keep their clothes. I'd keep shopping at Lane Bryant if I could because they were there for me when I really needed them.
For once, a designer has acknowledged that fat women can be spectacular, sexy and gorgeous. Thanks, John Galliano.
Previous: The Biggest Loser: Payoff After the Plateau
Next: Figure Magazine – The New Shape of Fashion

30 Responses to "Fat AND Beautiful"
Leave a Reply
-