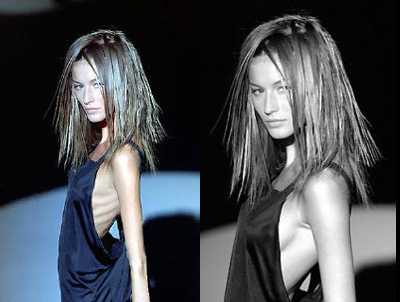 It appears that someone has been working on their Photoshop Skillz by making thin models even thinner:
I sometimes wonder at things like this. When I first saw the Photoshopped picture, I thought to myself, "That girl needs to eat a sandwich." I almost felt justified. I may not be at my goal weight, but at least I'm not wasting away.
I almost think that pictures like these and those photos of Lindsay Lohan's ribs serve a purpose for us, whether they are real or not. When I saw that picture, I felt that being fat was better than wasting away. It is, but the best option is to be a healthy weight. Maybe these sort of pictures serve the purpose of keeping us from realizing our dreams of achieving a healthy weight. Maybe they feed our fear of being hungry all the time.
Don't let things like this distract you. When you get to your goal weight, you will be healthy and strong, not weak and skinny.
Previous: School Lunch Reform
Next: You Don't Have To Be Skinny To Be Pretty

5 Responses to "Photoshopped Thin"
-