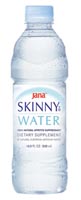 The Museum of Hoaxes takes on Skinny Water, a new product from a European food conglomerate:
I checked out the website for Jana Skinny Water. There is a 3 minute commercial for Jana and its line of waters. There is also a section describing the clinical trials that supposedly supports the claims that Jana Skinny Water aids in weight loss. The clinical trial, however, was done on a product called CitriMax, which are capsules. CitriMax contains HCA, which has been promoted to aid in weight loss. The capsules were given to the study participants before each meal in 500 mg doses. There is no explanation about how this relates to Jana Skinny Water and there is a small message at the bottom of the section of clinical trials:
"These statements have not been evaluated by the Food and Drug Administration. This product is not intended to cure, mitigate, treat or prevent any disease."
The website is also quick to mention the "American Epidemic" of obesity. There are so many companies out there eager to jump on the bandwagon of weight loss. Don't let them take your money. Magic water from Croatian artesian wells is less likely to help you than determining once and for all that you are going to make it through this. You are far more powerful than anything you can buy in a store.
Previous: Log Your Weight With Excel
Next: Trikke: Not Just For Toddlers Anymore

Leave a Reply
-