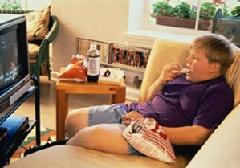 It's everywhere. I can't pick up a newspaper or turn on the television news without hearing about Childhood Obesity. Every article has tips for parents on how to deal with obese children. What they need to do and what they need to feed their kids.
Let me tell you, as a former obese child, there is no way that your children don't know that they are fat. They get it every day at school. They hear the rhymes: "Fattie, fattie, two by four. Can't fit through the bathroom door." There is no escape from the hell that they experience at school. If you start treating them like they are fat, then there is no escape, period. If they get the torment at school and then get it at home, they might as well…
I'm speaking from experience and here is what I might as well did: vomiting after each meal, starving myself, overeating in frustration, living in depression, and contemplating ending it all. And I was lucky. I only dealt with a home situation that called me fat during the summers when I lived with my grandmother. Three quarters of the year, I lived in a loving and nurturing environment.
So, what do I recommend parents do?
"If you want to make the world a better place, take a look at yourself and make a change."
– Michael Jackson, The Man in the Mirror, 1987
Your children learned their habits from somewhere. If you want your child to eat healthier food, don't say a word to them. You need to eat healthy food as an example. That means if you're making a healthy dinner, they eat it too. If you want a snack, make sure you're snacking on fruits and vegetables.
If you want your child to stop watching television and playing video games, don't say a word to them. Get your own butt off the couch. "Hey, I'm going on a bike ride. Do you want to come with me? No? Ok, have fun." Several weeks of them missing a nightly bike ride, they will join in. It works with anything, "I'm going to go shoot some hoops, wanna come?" "I'm going to take a walk over to the park, wanna come with me?" Don't force them to come. Don't reprimand them for not coming. Just give them a good example.
No amount of nagging will make them eat healthier or exercise more. Enrolling them in classes and watching television the whole time they're gone, just makes them resent you. Forcing them to eat food that is healthy and sneaking off to stuff Hostess Cupcakes in your face just proves to them that "our family is just fat." Don't make their homelife the living hell that school is. Provide them with a good example and let them make their own choices.
Previous: Forbes.com Best of the Web – Health and Fitness Blogs
Next: The Last 10 Pounds

17 Responses to "Childhood Obesity"
Leave a Reply
-