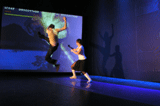 You can't buy it for your home console. It doesn't work with Xbox, PS2, PS3, GameCube or even Xbox 360. You can't even see it in person unless you're in Europe. It looks cool anyway!
It is being heralded as the beginning of video games as spectator sports. Others watch while you play in this special room with padding and 360 virtual reality screens, which give you the impression of being able to fight like someone in the Matrix.
Man, I wish I had a flight to Finland planned. It looks totally cool!
Via: Engadget – Like Keanu, you too can know Kick Ass Kung-Fu
Previous: Eat Healthy and Get an Xbox
Next: The Costs of Obesity

Leave a Reply
-