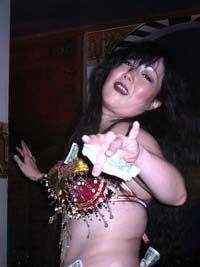 Margaret Cho has taken up belly dancing and it is so liberating to hear her talk about it.
I was dancing when I was eight, I was dancing when I was eight. Is it strange to dance so late?

I think I might have stopped dancing when I was eight because my father told me I was fat. After that, you just have a hard time getting yourself off the ground. It was like I put on lead shoes and didn't take them off for nearly thirty years.

Exercise for me always meant suffering. Punishing my body for not being thin, or eating too much, or not eating at all, or not exercising the day before, or not exercising hard enough or whatever whatever whatever. There was never a lack of reasons to hate myself, to hate my body. I decided to give it all up entirely, all physical activity. Nothing.
She has spoken so frankly about her war with her body, both in her stand up routine and on her blog. I just feel so happy to see this picture of her dancing. It makes me want to take lessons.
Previous: Team Sports
Next: Eat Healthy and Get an Xbox

One Response to "Belly Dancing"
Kristine Walker Says:
June 30th, 2005 at 1:43 pm

Wow. I am now officially a fan of Margaret Cho's Blog… heck, ever since seeing this post I've been emailing the Bellydancing blog link to most of my female friends because body image issues are so prevalent and so imprisoning to us.

thank you for the link! I think I'm going to look for lessons now!
Leave a Reply
-