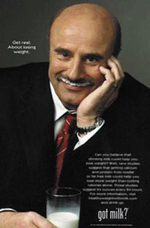 The PCRM (Physicians Committee for Responsible Medicine) has attacked the idea that dairy products help people lose weight.
Based on PCRM's affiliated websites, they seem to be animal rights activists. They promote a vegan diet and decry disection of animals for medical training. They have their own agenda just as the American Dairy Association does.
That said, the studies that they link to are very real:
Whether you want dairy products in your diet is a personal choice, just like Reese's Peanut Butter Cups or broccoli. There was one study that showed that the addition of dairy to your diet may help you lose weight, but that study has not been replicated, which is a requirement when using the scientific method.
Previous: FTC Crackdown on More Diet Scams
Next: Finding Exercise That You Love So Much You'll Miss It

Leave a Reply
-