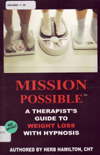 This weight loss book and hypnosis CD is another selection that I got from the library. The first couple of times I listened to the CD, I fell asleep about 10 minutes into it. I had no idea what instructions it was giving me and I always woke up a couple of seconds before it ended when the instructor said that I was fully awake and refreshed now. I actually worried that it might be telling me to kill people or something, so I consciously sat through it without following the directions to relax in order to make sure it wasn't malignant.
I haven't tried following the diet program that the book describes. It cuts out groups of food, which is something that I've never succeeded at. I have a good diet plan with Weight Watchers, so I'm not looking for a way of eating. I was hoping for something positive to go into my head when I'm on my lunch hour.
Falling asleep is what you're supposed to do when you listen to this CD, so it does a good job of causing a sense of relaxation. He spends a lot of the time just getting the subject to relax. The actual message of the hypnosis CD starts sixteen minutes into the session, so if you are hyperactive, like me, you might find his calm voice a little unnerving at first. Just let yourself listen. Worst case scenario, you'll get an extra nap out of it. If you are looking for some positive ear candy before you go to bed or while you're on your lunch break, this is a good book/CD for you.
Previous: Obesity Confusion
Next: Health Monitoring RFIDs

Leave a Reply
-