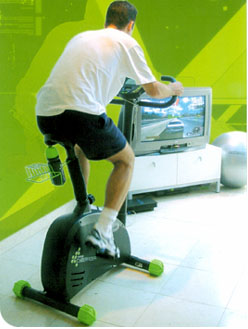 This is the first exercise bike game controller I've seen that's released by a well-known company.
Reebok has developed a fully dedicated website for the Cyber Rider, but it crashes spectacularly on Internet Explorer. Try viewing it with Mozilla Firefox to see the details.
This game controller is made to work with the PC or with Playstation 1 or 2. Considering the lime green coloring, I'm shocked that it doesn't work with Xbox or Nintendo Gamecube right now, but according to their documentation, there should be upgrades available to let them work with the other formats in about three months or so. I know of some PS2 to Xbox converter cables that are available, but I suspect things would run better with the upgrade from Reebok.
How fast you pedal is how fast you go in the video game. You can control the other functions in the game using buttons on the handle bars. It looks like a really well-built bike that could be used by itself or as a controller for your game.
According to the owner's manual, it looks like there is a lot of assembly required, which worries me. I'd hate to find out that the reason I can't win any races on Project Gotham is because I put the bike together incorrectly. I guess I would figure that out pretty quickly.
If you are enjoying your spinning classes, this looks like a good alternative for home. You get to play some games, win some races and get some exercise. Now, we just need the game programmers to create a cool mountain biking game with calorie counting and workout modes.
Previous: Twelve Donuts
Next: Obesity Confusion

7 Responses to "Reebok Cyber Rider"
Leave a Reply
-