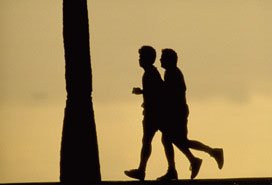 The only way to learn how to run faster is to run faster. There is no other way around it. You can talk about lactate thresholds and VO2 Max all you want, but you won't get any faster unless you practice running faster.
When I first started running, I thought that I would learn how to run faster by slowly increasing my speed on the treadmill. I was regularly running at 4.0 mph. I thought next week, I would run at 4.1 mph every day. The week after that I would increase it to 4.2.
That plan lasted one week and a day. On that first day at 4.2, I couldn't maintain the higher speed for longer than a few minutes. I couldn't understand it. I thought I had increased the speed slowly. My treadmill didn't have speed increments to the hundredths. After that first workout at 4.2 mph, I gave up on increasing my speed. I figured that if I kept my heart range in the 75% range, I was doing a good job.
Anyone who has ever run on a treadmill every morning for weeks on end knows this simple fact: it's easy to get bored. I was reading some website that has long since died and gone to website heaven and it talked about interval training. I thought that it might be fun. It gave me very specific speeds and inclines for my workout. I tried it and it was actually something that I could do. I had no idea that I could run at 5.0 mph for thirty seconds. Once I learned that, I was hooked on interval training.
While I was playing with my treadmill settings, I was learning how to run faster. I have never figured out a way to slowly increase my running speed, but I've found that if I do one or two workouts a week where I run as fast as I can for thirty seconds and run slowly for two minutes and keep repeating through my whole workout, I end up being able to run faster for a long distance.
P.S. That website that I used to visit so long ago was a precursor to my Treadmill Workout Spreadsheet that I have found so helpful. I still had the link to that old website bookmarked, but it is long gone. I can't find anything that was like it.
Previous: Drugstore Pain Relief
Next: DDR UltraMix 3 Secrets

13 Responses to "How To Run Faster"
Leave a Reply
-