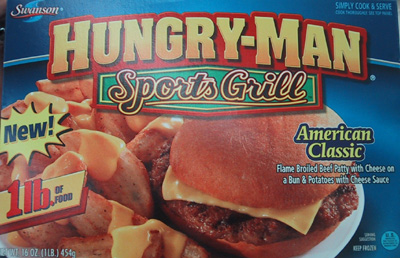 I was just cruising the grocery aisle when I came across this TV Dinner. It's 16 ounces of food. The box announces it in bold letters, "1 lb. of food!" That cheeseburger and cheese fries looked so good to me. I figured it must be pretty small considering how big the box was. I was shocked when I turned it over and looked at the nutrition facts.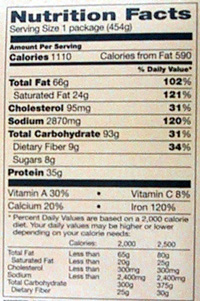 At 1110 calories, 66 grams of fat and 9 grams of fiber, that calculates to 27 Points on the Weight Watchers Flex Point Plan. Do you know how many points I'm allotted every day? 22 That one frozen dinner is a full 5 Points more than I'm supposed to eat every day (not including Flex Points).
If someone had shown me the picture and asked me to guess the points, I would have guessed 6 for the burger and 8 for the fries. I would have said 14 points, missing the mark by a full 13 points. I am so grateful that the FDA requires the nutrition facts on all food now. I would have eaten this monster and wondered why I didn't lose weight.
I put the dinner back in the freezer where I found it…
Previous: Torrid: Cool Clothes for Plus-Sized Teens
Next: Pac Manhattan

8 Responses to "Hungry Man Sports Grill"
-