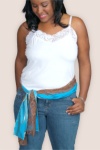 This article from Boing Boing brings up so many bad memories for me.
It talks about Torrid, which is a plus-sized store from the Hot Topic people. Cool clothes for plus-sized kids. Growing up a plus-sized teen was hard. There are some stores to this day that I won't even walk into because they were so pretentious. Even though I can wear their clothes now, I boycott them.
Knowing that Hot Topic has set up these Torrid stores makes me so happy. It almost eases the pain that I felt back then. There were times when I had a purse full of money and nothing to buy that was cool or fit. I could buy cool clothes that didn't fit or I could buy old lady clothes that did fit. Neither choice worked for me. I remember holding back my tears while my skinny cheerleader friend found outfit after outfit of cute, cool clothes.
There is a curmudgeon in the back of my mind that says, "Doesn't having options like this promote unhealthy weight? Shouldn't we only release cool clothes in small sizes as an incentive to overweight people to get healthy?"
No.
Getting to a healthy weight doesn't happen easily. I didn't get to a healthy weight when stores told me I was not welcome. It wasn't the exclusiveness that attracted me to lose weight. I didn't lose it for the clothes. In fact, I still shun those stores that treated me like a second class citizen when I was fat. I lost weight for me. I lost weight to be healthy. I lost it so that I would live a few years longer on this planet.
I was only able to get to that point in the journey when I believed that I was worth it. I deserve a healthy body. I deserve to live longer. I deserve to look good. Having stores exclude me didn't help in that process, they hindered me. That's why I'm so glad that Torrid exists.
Previous: Slimming Foods for Summer
Next: Hungry Man Sports Grill

5 Responses to "Torrid: Cool Clothes for Plus-Sized Teens"
Leave a Reply
-